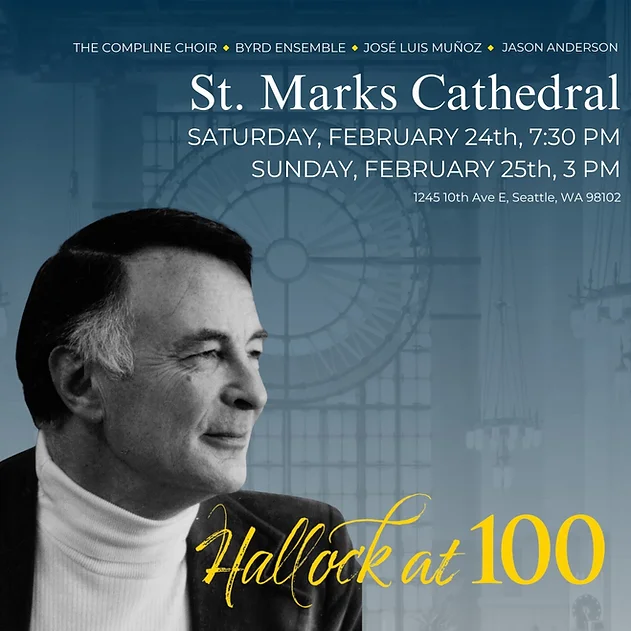 Saturday, February 24, 2024
7:30 PM
Pre-Concert conversation at 6:45 PM
Sunday, February 25, 2024
3:00 PM
Gala reception in Bloedel Hall following the concert
Two identical performances, offered in-person
or on demand one week following the concerts
Saint Mark's Episcopal Cathedral
1245 10th Ave E
Seattle WA 98102
Featuring the Byrd Ensemble, The Compline Choir,
and countertenor José Luis Muñoz
2024 marks the centenary of Peter R. Hallock's birth. These concerts launch a celebration of Peter Hallock and his music. Program includes music spanning the Renaissance to the present day, along with a selection of Hallock's own compositions, and a song cycle for countertenor. Concerts made possible in part by The Peter R. Hallock Institute, Association of Anglican Musicians, Saint Mark's Cathedral, Early Music Seattle, and Classical KING.
Performers & Repertoire
Byrd Ensemble
John Sheppard – Libera nos I
Peter Hallock – I saw a new heaven
Thomas Tallis – Te lucis ante terminum
Hallock – Draw on sweet night
Sheppard – Libera nos II
Described as "pure and radiant" (Gramophone), "immensely impressive" (Early Music Review), and "rich, full-voiced, and perfectly blended" (Early Music America), the Byrd Ensemble has been internationally acclaimed for its performances and recordings of chamber vocal music, particularly Renaissance polyphony. The Byrd Ensemble, directed by Markdavin Obenza, is a Seattle-based professional ensemble made up of 10 to 12 singers.
Since 2004, the ensemble has performed in the greater Seattle area and toured across the United States, presenting concerts for the Gotham Early Music Scene in New York, the Boston Early Music Fringe Series, and in Scotland at the Edinburgh Fringe Festival. The Byrd Ensemble has also performed in London, where John Rutter described the ensemble as "a fine group that has achieved an enviable standard of tuning, blend, and ensemble." The Byrd Ensemble is named after Renaissance composer William Byrd.
Markdavin Obenza, Artistic Director, is a choral director, recording producer, singer, and composer. He is also the director of Seattle-based choral ensemble Radiance, specializing in the performance of American choral music, and is the Director of Choral Activities at Trinity Parish Church in Seattle, WA. As a producer for independent record label Scribe Records, Markdavin has produced CD recordings for over 40 choirs and soloists, of which several have been reviewed in Gramophone, Early Music America, Early Music Review, and Fanfare. Markdavin has also produced and directed a number of virtual choirs, including Caroline Shaw's and the swallow, which was featured on Modern Choral Masterworks, broadcast by the Canadian Broadcasting Corporation. He has also produced "concertmentaries" and musical broadcasts in collaboration with various music ensembles and artists during the pandemic, including Shaker Spirituals in Maine (2021), featuring composer Kevin Siegfried and Radiance for the Library of Congress American Folklife Center.
The Compline Choir & Page Smith, violoncello
Costanzo Festa – Lamentations of Jeremiah
Peter Hallock – Lamentations
Erin Aas – What Hand Divine
The Compline Choir is a unique community of laypersons with diverse beliefs that seeks to express musically a concern for the nurture and care of the soul—spiritual nourishment. The mission of the Compline Choir has been to perform and record liturgical and religious music for men's voices for the edification and enjoyment of listeners; to promote and perpetuate ancient, traditional, and contemporary musical forms of worship; and, to minister to the spiritual needs of the community.
Dr. Jason Allen Anderson is equally at home on the stage and in the church as a performer, singer, conductor, organist, liturgist and composer. He hails from Franklin, Indiana and is a graduate of Butler University (B.M. in Music Education), Portland State University (M.M. in Conducting), and the University of Washington (D.M.A. in Choral Conducting). He studied voice with Laurel Goetzinger and Dr. Bruce Browne and conducting with Henry Leck, Dr. Bruce Browne, and Dr. Geoffrey Boers. Dr. Anderson's dissertation "The Life and Works of Peter R. Hallock" was completed in June 2007. A man of diverse musical interests and talents, Dr. Anderson is currently Associate for Liturgical Arts and Youth Formation and Organist/Choirmaster at St. Michael and All Angels Episcopal Church in Issaquah, Washington. Since July 2009, he has served as Director of The Compline Choir in residence at Saint Mark's Cathedral in Seattle, Washington.
José Luis Muñoz with Elizabeth C. D. Brown, lute, and Andrea Rojas Duroy, piano
Nico Muhly – Old Bones for Countertenor & Lute
Michael Nyman – Two Sonnets of Sor Juana Inés de la Cruz
John Hillebrandt – Selection of songs
José Luis Muñoz has been described as "a fabulous countertenor" with "amazing, powerful expression." He is often heard premiering and creating new works and principal roles in such works as Bless Me, Ultima (Albuquerque), Juana (San Francisco), Monticello Wakes (Los Angeles), Yoshinaka (Seattle), Kakitsubata (Cologne, Germany), and Magda G for which he was featured in the Los Angeles Times. A versatile performer, Muñoz' other work includes: Melissa in Caccini's La Liberazione di Ruggiero dall'Isola d'Alcina, Handel's Messiah, Mozart's Requiem and Missa Brevis K275, Bach's B Minor Mass and Magnificat, Orff's Carmina Burana, and Bernstein's Missa Brevis.
This versatility has allowed him to work with organizations such as: Seattle Opera, Bach Collegium San Diego, Symphony Tacoma, Opera Southwest, Harmonia Orchestra & Chorus, Musikpunkt Koeln (Cologne), Opera Modesto, Portland Symphonic Choir, City Opera Ballet, Bellingham Chamber Chorale, Orcas Choral Society, Seattle Early Music, E.O.S. Opera (Cologne), Rogue Valley Symphony, Federal Way Symphony, Washburn Symphony, San Francisco Baroque Opera, First Congregational Church Music Series, Mission Cultural Center, Theater Artaud, Foro Cultural Coyoacanense Hugo Argüelles (Mexico City), the Ludinghaüsen Summer Art Festival (Ludinghaüsen), among others.
His past seasons included the west coast premiere of Marco Rosano's Stabat Mater and Pergolesi's Stabat Mater with Music at Epiphany, Bach's Magnificat with Harmonia Orchestra & Chorus, Bach's St. Matthew Passion and Scorchers 20th Anniversary with Bach Collegium San Diego, Don Quixote in the U.S. premiere of Mauricio Sotelo's opera Dulcinea, The Owl in Hector Armienta's opera Bless Me, Ultima and the 40th Anniversary Gala with Opera Modesto, the world premiere of Handel's El Mesías "Messiah for a New World" with Bach Collegium San Diego, Elijah in Daniel Wolfert's A Stranger at the Door with Seattle Opera, Handel's Messiah with Harmonia Orchestra & Chorus and Symphony Tacoma, and John Adam's Grand Pianola Music with the Auburn Symphony Orchestra.

His current season includes: Prince Orlofsky in Strauss' Die Fledermaus with Opera Modesto, Bach Motets in Madrona with Music at Epiphany, Handel's Messiah with Symphony Tacoma, Handel's El Mesias "Messiah for a New World" with Bach Collegium San Diego, and P.D.Q. Bach's Iphigenia in Brooklyn and Bach's BWV 82 Ich Habe Genug with Federal Way Symphony, and Bach's Magnificat with Music at Epiphany.
José Luis resides in Seattle, Washington. Along with an Artist Diploma in Early Music Studies from Cornish College of the Arts; he holds a Bachelor of Fine Arts in both Vocal and Piano Performance from California State University Stanislaus. He was the recipient of Wisler String Scholarship for his work as assistant principal violist with the Stanislaus Symphony. He is a past winner in the California Opera Association Competition. Mr. Muñoz teaches privately in Seattle, his students have sung lead roles and works with Seattle Symphony, Seattle Opera, and San Francisco Opera.